Club3D CAC-1573, -1575 & -1576: USB Type-C cables transmit up to 240 watts using EPR
With 5 amps at 20 volts, USB Type C plugs and cables were originally limited to a maximum of 100 watts, provided the corresponding cables and plugs or chargers were used. With USB Type C version 2.1, up to 240 watts above 5 amps with 48 volts is specified in 2021. Club3D now offers the corresponding cables.
USB C 2.1 with ERP: 240 instead of 100 watts via USB Type C.
In the past, the limitation to a maximum of 100 watts meant that high-performance gaming and work laptops were still offered with a classic hollow-plug power supply unit, because USB Type-C could not provide enough electrical power even within specifications. The new Extended Power Range (EPR) standard as part of USB Type C 2.1 now makes up to 240W possible, but again requires new cables – those pre-set for up to 100W (SPR) are not enough.
In concrete terms, the cables must be specified for operation with 50V and 5A current and must transmit the extra bits required for EPR – thus these cables are active, not passive. USB-C cables up to 240W must support both SPR and EPR and replace pure SPR cables, which will be discontinued as a result.
Three first 240W cables with USB 2.0 and USB 4
Club3D now offers its first three EPR-compatible USB Type-C cables, but they conform to very different USB standards when it comes to data transmission: even a "pure charging cable" that uses only USB 2.0 with 480 Mbit/s with no alternative DisplayPort supported mode is included. Delivery to retailers is scheduled for early May.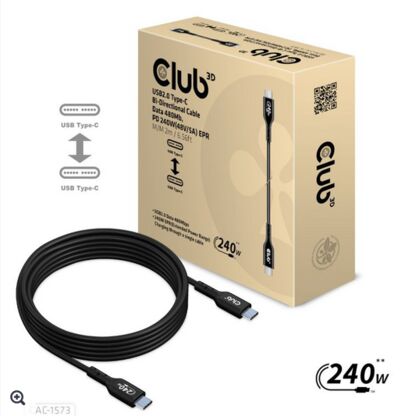 New slogans against chaos
The amount of electrical power that a USB Type-C connection can transmit is still generally not visible without the aid of documentation. 15 Watts to supply a maximum of connected peripherals yet without the express use of USB power delivery. Whether more is possible and the host can be charged via it – and with what force – is not usually mentioned at the port. Many laptops that charge with USB Type C often deliver up to 60, 70, or 80 watts—only a few automatically support up to 100 watts with a similarly powerful power supply unit.
In the future, new logos should provide a cure – again. They should indicate at a glance whether 60 or 240 watts are supplied according to USB Power Delivery 3.1. If a USB 4 connection is certified, a data rate of 40 Gbit/s can also be included in the logo, after all USB 4 ports can only be served at 20 Gbit/s. There is also another logo for the chargers that shows the power supply. A total of seven different logos produce only 240 and 60 watts, depending on whether they are printed on the packaging or on the connection and with or without data rate. All three Club3D products use logos. However, the pictograms will still not be able to display the same information on the notebook itself.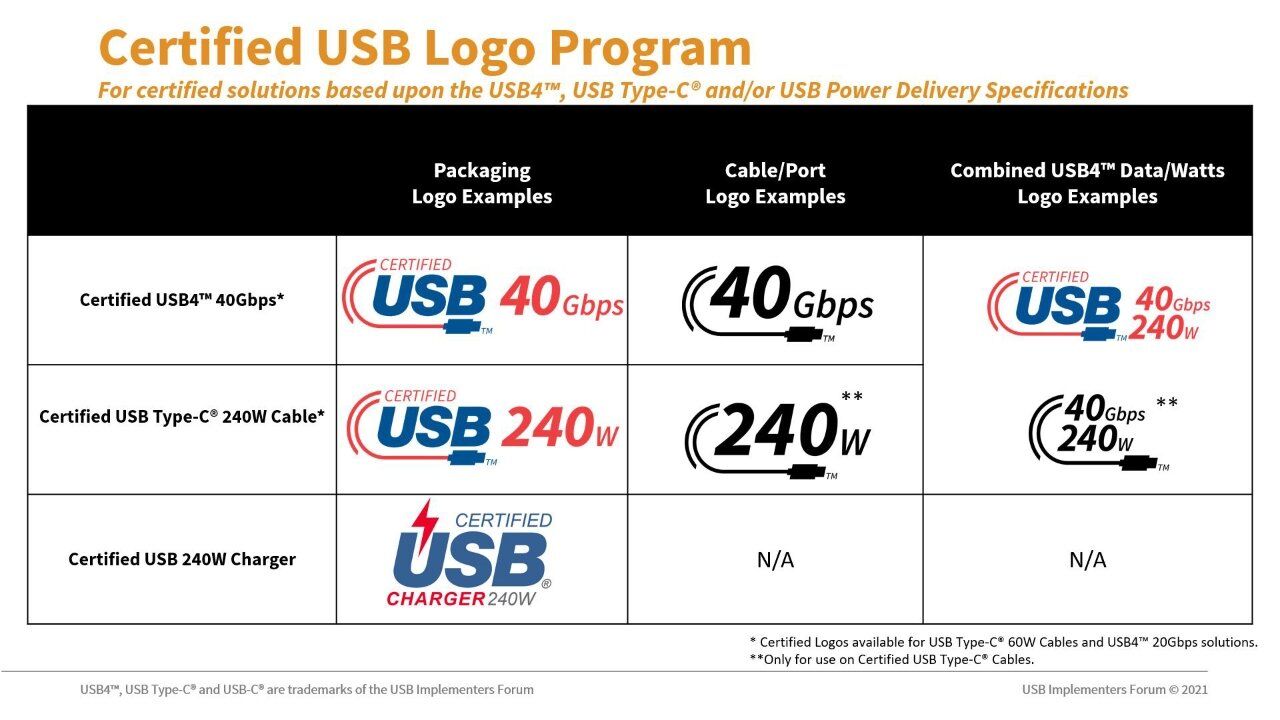 So far, the editors do not know of any laptops with a USB Type-C power supply of more than 100 watts. On the other hand, current gaming laptops are already equipped with 300W power supplies, which again the new standard isn't powerful enough.
Lifelong foodaholic. Professional twitter expert. Organizer. Award-winning internet geek. Coffee advocate.