CCleaner, TuneUp & Co: Real System Optimizers or Just Snake Oil?
Sunday's question takes the latest version of the well-known system tool CCleaner from British software manufacturer Piriform of the Avast group of companies as an opportunity and question about this and other popular system optimizers. But according to the editors' opinion, it should only be asked in passing: What do you think of the tools?
Since the release of version 6.0.9727 on May 15th of this year, CCleaner, which always ranks highest in ComputerBase download charts, has offered the so-called "Performance Optimizer" in the paid versions "Professional" and "Professional" and "Professional Plus". , which software developers vouch for up to 72 percent faster load times and improved overall performance.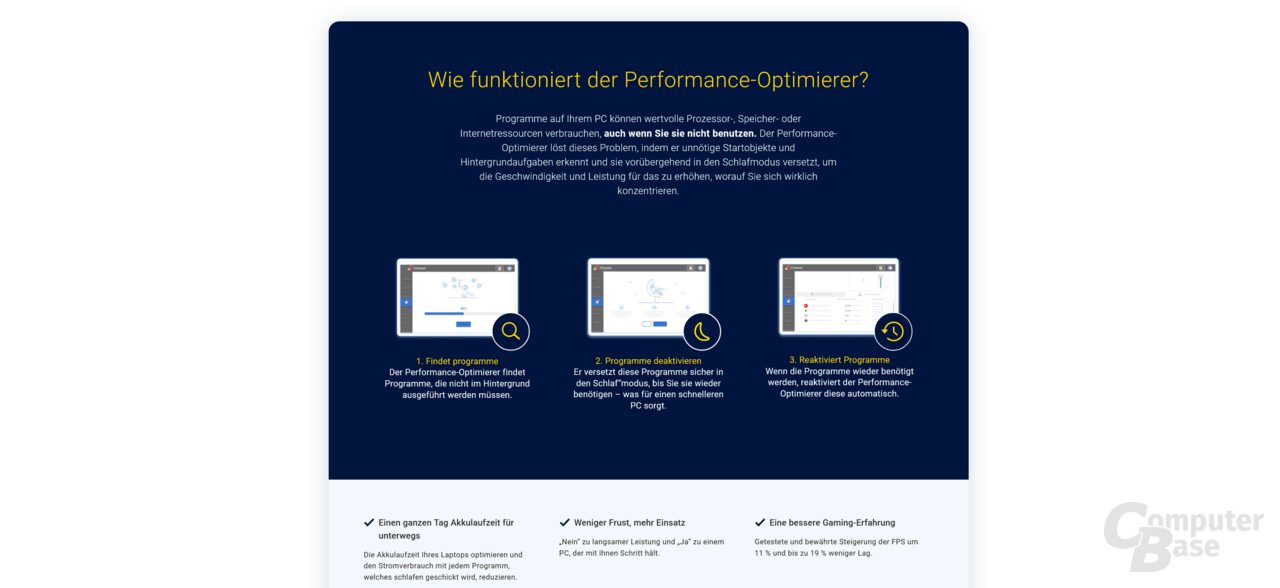 The new CCleaner 6.01.982 can now delete traces of apps and services installed via Microsoft Store such as Netflix, WhatsApp, Amazon Music, iTunes, Spotify or iTunes.
System optimizer or snake oil?
But is this necessary and, more importantly, does it really improve system performance? What do you think of such tools in general?
Do you use tools like CCleaner?
Are CCleaner and AVG PC TuneUp as well as various tools and registry cleaners real system optimizers or is it just some bad and dangerous snake oil in the end?
Useful and convenient or dangerous?
Those who use system optimization, tweaking, and tuning tools usually do so for a very specific reason. Those who avoid such requests certainly have their own reasons for doing so. But how do you see that? What is the most correct statement about CCleaner, AVG PC TuneUp, system optimizers, and other registry cleaners?
The most popular and popular system optimization programs are CCleaner, AVG PC TuneUp – formerly known as TuneUp Utilities or TuneUp – Glary Utilities, which is also available in a paid Pro version, Wise Disk Cleaner and Ashampoo WinOptimizer as well as tools for optimizing the Windows registry Like Wise Registry Cleaner.
What system and registry optimizer do you primarily use?
Have you ever faced a bigger problem?
Be honest, have you ever experienced a crashed operating system or broken registry by using one of the mentioned system tools? Was it necessary to reinstall after that? The editors look forward to the corresponding statements in the comments to this Sunday question.
Sharing is clearly desirable
The editors would be very happy to receive good, detailed reasons for your decisions in the comments to this Sunday question. If you have completely different favorites in a genre, please write them in the comments.
Readers who have not yet participated in Sunday's Final Questions are encouraged to do so. Exciting discussions are still going on in the ComputerBase forum, especially regarding recent surveys.
Sunday's last twenty questions
Sunday question: Should ComputerBase offer merchandise again?
Nutella, DDR5, and Retro: Sunday Questions from the ComputerBase Community
Game series duel: FIFA or Pro Evolution? Street Fighter or Tekken?
Sunday question: What game console do you remember best?
Sunday Question: How do you feel about cryptocurrencies, tokens, and blockchain?
Sunday question: JEDEC, XMP profile or real overclocking?
Sunday question: Which manufacturer makes good tools and which ones are bad?
Sunday question: How do you see the current development of games?
WWW, Web 2.0, and Web3: How and when did you get on the Internet yourself?
Sunday Question: Do you optimize your PCs for gaming with the help of OC and UV?
Sunday Question: VR gaming was, is, and always will be something relevant, right?
Sunday question: What is the name of your RGB head?
Sunday Question: Who else says Napster, Casa, eDonkey, and eMule?
Sunday Question: Have you ever owned a graphics card with a dual GPU?
Sunday Question: Which Sunday question would you like to ask?
Sunday Question: Is Open Source an Alternative for You?
Sunday question: Windows Defender provides enough protection, right?
Sunday question: Which architecture was more innovative: Zen or Core?
Sunday question: PlayStation, Xbox or Nintendo?
Sunday Question: The future is gaming from the cloud! or not?
Sunday question: Windows 11 or still Windows 10 and why?
Sunday question: Can Intel Arc really compete with AMD and Nvidia?
Sunday question: Ryzen 7000 or 13th Gen Core, who will win?
Do you have ideas for an interesting question on Sunday? The editors are always happy to receive suggestions and submissions.
Was this article interesting, helpful, or both? The editors are happy with any ComputerBase Pro support and broken ad blockers. More about ads on ComputerBase.
Lifelong foodaholic. Professional twitter expert. Organizer. Award-winning internet geek. Coffee advocate.