For the first time in history, soldiers from the 10 countries of the Association of Southeast Asian Nations (ASEAN), a partnership in Southeast Asia, are training together this week, but it is rarely announced. This is crazy. Because this practice should show the world that the ASEAN countries form a unit not only politically, but also militarily.
The exercises were initially scheduled to take place near Indonesia's Natuna Islands in the South China Sea. China claims part of the waters within Indonesia's exclusive economic zone, where there are large gas fields. However, the exercise was moved last June to the Malacca Strait near Batam Island, a less controversial location, after an Association of Southeast Asian Nations (ASEAN) meeting. Diplomats said China objected through its political ally, Cambodia.
It was also no longer called a military exercise, but a "solidarity exercise," which, according to outgoing ASEAN President Indonesia, was aimed at rescue operations and disaster cooperation. Army spokesman Julius Widjojono confirmed, "These are not combat maneuvers." Indonesia denied that Chinese interference was the reason behind the change of location. "A lot of people live in Batam. It is therefore a more logical training ground," Wedjojono said.
But these exercises were initially intended as a stand against Chinese expansionism in the South China Sea, where the country has been acting increasingly aggressively in recent years. Chinese naval ships are intimidating local fishermen and ASEAN naval vessels. China is creating islands, building military bases, and claiming waters that have been set aside in international treaties for Vietnam, the Philippines, and Malaysia, among others.
Many analysts believe that weakening the ASEAN exercise shows the impotence of Southeast Asian countries. Scott Marcel, a former US ambassador to the Association of Southeast Asian Nations (ASEAN), told Japanese news outlet Nikkei Asia that Indonesia has yet to organize a joint naval exercise in waters claimed by China. "The decision to move the exercises represents a setback in ASEAN's ambitions to enhance security cooperation," he wrote in disappointment.
American support
This issue shows how the countries of the Association of Southeast Asian Nations (ASEAN) strike an almost impossible balancing act. They want to make the decision, but at the same time they do not want to offend China, with which they have close trade contacts.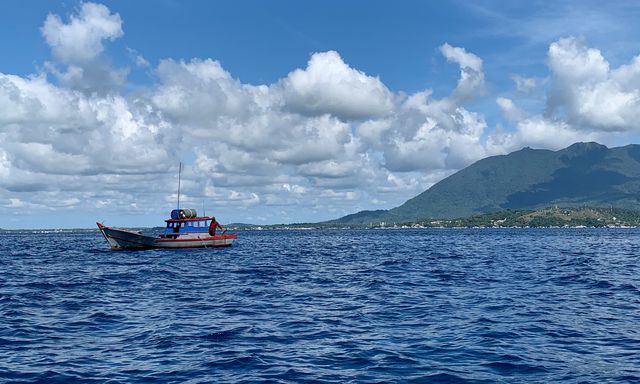 Read also Fishermen in Natuna are getting bitten less and less

The stakes are high. According to Reuters, goods worth about $3.5 trillion pass through the South China Sea every year. The sea itself is rich in fish, gas, oil and other minerals. China and Western countries, including the United States, are competing for power in that region.
This conflict increases the militarization of the region. According to the Stockholm Peace Research Institute (SIPRI), military spending by ASEAN countries combined has doubled from $20 to more than $43 billion between 2000 and 2021. But this pales in comparison to the $292 billion China spent in 2021. Therefore, ASEAN countries that want to defend themselves militarily against Chinese aggression will have to rely on Western allies. The United States – with defense spending of $827 billion in 2021 – already works closely with Singapore, the Philippines and Indonesia, among other countries, and this month strengthened economic and military ties with Vietnam.
The Americans have naval ships in the region, have access to military bases in the Philippines, and are powerful through military partnerships such as the Quad Alliance, an alliance between the United States, India, Japan, and Australia. Last week, Garuda Shield, an annual military exercise between the United States and Indonesia, took place, this time also involving Australia, Japan, Singapore, France and the United Kingdom.
Fear of escalation
But the ASEAN countries themselves are unable to take a joint military stance against China. "For fear of escalation," believes Reza Nawir Irfani, a professor of political science at the Indonesian University Gadjah Mada. "Trade interests with China are of course also a reason to maintain balance between the two superpowers for as long as possible."
Read also In the battle for global power, you must now look to the Indo-Pacific region.

However, Irfani does not believe that it is possible to simply dismiss ASEAN as a paper tiger, precisely because ASEAN countries have relations with China and the United States and have to navigate political interests. He says that the course of events shows the extent to which a country like Indonesia plays an important, major role in regional and global politics. "Indonesia has traditionally followed a policy of neutrality. It will not take sides, but always wants to find a compromise. Exactly what it has done now. This settlement shows that ASEAN is a credible peace negotiator between the two superpowers.
Another complicating factor is that the differences between ASEAN countries are too great to show a common front. Many member states are governed by authoritarian regimes, so refraining from interfering in each other's affairs is crucial. There is no joint defense agreement. While the Philippines positions itself as a strong ally of the United States, Cambodia and Laos can be considered China's client states. The interests of the military regime in Myanmar are also closely linked to those of China.
Former US Ambassador Marcel suggests in his opinion article in the Nikkei newspaper that ASEAN countries most influenced by China should organize military exercises without pro-China countries, such as Myanmar, Laos and Cambodia.
This month, Indonesia handed over the annual presidency of the Association of Southeast Asian Nations (ASEAN) to Laos, a Chinese client state. It won't make the budgeting process any easier.
Zombie specialist. Friendly twitter guru. Internet buff. Organizer. Coffee trailblazer. Lifelong problem solver. Certified travel enthusiast. Alcohol geek.