A new celestial object will soon be flying in the sky of Silicon Valley in California: the balloon owned by Sergey Brin, one of the founders of Google, which is more than 100 meters long.
The maiden flight of the airship called Pathfinder 1 is said to be imminent, and The Guardian first reported on the BRAIN project more than six years ago.
But what exactly is behind Pathfinder 1 – and what does Sergey Brin want to achieve with it?
What we know about the Pathfinder 1 airship
The US Federal Aviation Administration (FAA) granted the Pathfinder 1 aircraft clearance for takeoff on September 6 of this year.
As part of its take-off clearance, Pathfinder 1 was recently granted what is called a Certificate of Airworthiness by the Federal Aviation Administration (FAA). This document grants a license to operate an aircraft. The certification allows the balloon to soar to a maximum height of 460 meters above Moffet Airfiled and Palo Alto Airport.
This will allow the Pathfinder to fly over southern San Francisco Bay without affecting commercial air traffic. The accompanying request letter to the FAA describes the desired goal; It consists of displaying and determining the flight envelope of the flying ship.
Pathfinder 1 Airworthiness Certificate: In a post on the professional platform LinkedIn, the responsible company LTA provides a photo and text report on the airworthiness certificate it has obtained:
"We are proud to announce that we have received airworthiness certification for the Pathfinder 1."
Pathfinder 1 in numbers and facts: Pathfinder 1 is 20 meters in diameter and 124 meters long. For comparison: a Boeing 747-8 Intercontinental is about 76 meters long, and an Airbus A380-800 is about 73 metres. This makes the Pathfinder 1 much longer than some of the largest passenger aircraft in the world.
In addition, twelve electric motors were installed in Pathfinder 1, with the help of which the airship could reach a maximum speed of 120 km/h. Electric motor batteries are currently powered by diesel generators.
Anyone wishing to interactively click through the different functions of Pathfinder 1 can do so as part of an interactive presentation on the LTA Research website.
What is actually required for Pathfinder 1? According to LTA Research, which was founded by Google co-founder Sergey Brin in 2015, the airship's frame structure is made of titanium tubes and lightweight carbon fiber. It is hoped that the chosen construction materials will keep the weight of the Pathfinder 1 as low as possible. According to Brain, non-flammable helium is used as the buoyancy gas.
Alan Weston, LTA's chief executive, told the Financial Times in June 2022:
"We believe that lighter-than-air technology has the potential to accelerate humanitarian response. It does this by reaching remote places with poor infrastructure […]"
Pathfinder 1 is designed for use in crisis areas. For example, it can deliver relief supplies to areas affected by natural disasters. In addition, commercial cargo flights should also be envisaged. The Pathfinder 1 can seat a maximum of 14 passengers and has a payload capacity of 11,000 pounds, which is about five tons.
Who is behind the Pathfinder 1 airship?
The "LTA" in the manufacturer's name, LTA Research, stands for "Lighter Than Air." The company is an aeronautics company that specializes in building experimental airships. LTA's goal is to increase the capabilities of airships and reduce their costs. Sergey Brin founded the company in 2016.
Talking about founding: On September 4, 1998, two Stanford University graduates, Larry Page and Sergey Brin, founded Google. Today, Google processes 100,000 search queries per second. Since then, the three Google founders, Larry Page, Eric Schmidt, and Sergey Brin, have established the holding company "H211" to operate their planes.
Basic information can also be read at: Larry Page and Sergey Brin founded Google and became millionaires. Now they collect giant planes
By the way: If you love taking off and prefer doing it on the back of a turtle, the game shown in the video below might be worth it.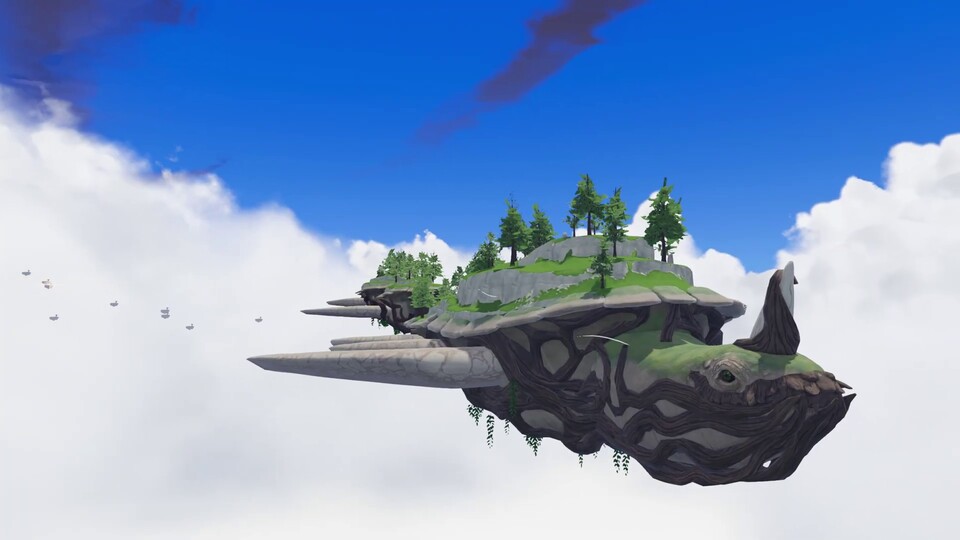 0:40



In this survival game, you can build your base on flying sky turtles
Do you think an air vehicle like the Pathfinder 1 will make progress in aviation? Or do you personally not think much about the noble projects of the Google co-founder? In other words, do you think the Pathfinder 1 will routinely soar across the skies in the not-too-distant future? Whatever your rating, feel free to write it to us in the comments.
Lifelong foodaholic. Professional twitter expert. Organizer. Award-winning internet geek. Coffee advocate.